Test Station
Why Test for Leakage?
No duct system is airtight. All leak to some degree. If controlled, duct leakage can be less than 1 percent of the total system cfm. As leakage increases, more air and energy is required to maintain design conditions, and this increases operating costs.
To protect building owners against leakage and resulting increased operating costs, engineers are requiring verification testing in their specifications. To help facilitate this testing, McGill AirFlow offers several different test equipment options, including component test kits, test kits mounted on a hand cart, and a revolutionary new Test Station that uses venturi tubes instead of the conventional orifice tube.
Leak Detective Test Station®
McGill AirFlow continues to improve duct system leakage testing with our Leak Detective Test Station. After considerable user input, product development, and field testing, we are now offering the HVAC industry a new product concept for testing duct leakage in the most accurate, reliable, and easy manner possible. The Test Station uses calibrated venturi tube/flow meters instead of orifice plates to measure the amount of air leakage. The venturi tubes have been mated with all new state-of-the-art components—blower, silencer, controls, gauge, meters, and smoke generator, and packaged in a compact, self-contained, ergonomically-designed, wheeled Test Station that is easy to operate, transport, and move around the jobsite.
Patent No. US D631,901 S
Patent No. US 8,511,146 B2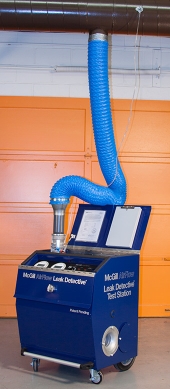 Venturi Tubes
McGill offers venturi tubes linked with airflow meters for four different leakage measurement ranges. Using a venturi tube and a digital flow meter with a variable speed blower, McGill AirFlow's Leak Detective Test Station can be quickly set up to measure leakage rates in duct systems with desired static pressures as high as 10 inches wg. The venturi tubes are calibrated and traceable to the National Institute of Standards and Technology (NIST). The calibration results in factors that are programmed into the digital flow meters to give direct readings of standard cubic feet per minute (SCFM) with an accuracy of 2 percent over the recommended flow range. A Certificate of Calibration is provided with each venturi tube/flow meter, which has been approved, stamped, and signed by a Professional Engineer.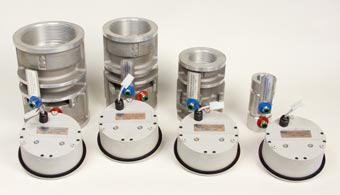 Major Components Included and Stowed on Board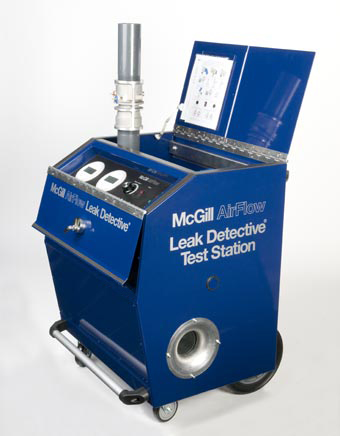 Fully-enclosed, self-contained, lockable, four-wheel, construction-grade cabinet with lifting handles and writing surface
Machined venturi tube—up to four can be carried in the Test Station, with linked airflow meters
Heavy-duty, threaded, inlet and outlet tubes for each venturi tube
Digital static pressure gauge
Digital airflow meter, for both supply (positive) and exhaust (negative) duct systems, with direct scfm leakage readout
Color-coded vinyl tubing for static pressure gauge and airflow meter connections
Variable speed blower, with gradual control—used for all four leakage test ranges
Silencer at blower inlet
Heavy-duty, flexible duct to connect to duct system and venturi tube
Bellmouth for negative pressure leakage testing
Smoke generator and fluid with connections and control
Central control panel with static pressure gauge, leakage airflow meter, blower speed control, off/on power switch, and smoke generator switch
Single 110-volt electric connection and auxiliary outlets
Operation Instructions Card and Manual
Professional Engineer's letter certifying calibration of venturi tube with airflow meter
Compartmentalized storage for all components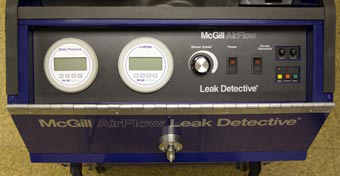 Features and Benefits of the McGill Test Station
| Feature | Benefits |
| --- | --- |
| Self-contained package | Ready to use |
| Operation Instructions Card and Manual | Easy to read and use |
| Construction site design | Durable |
| Integrated system | Safe to use |
| Compact, light-weight design | Maneuverable and portable, on stairways and in vehicles |
| Four venturi tube/flow meter choices for leakage ranges | Versatile |
| Variable speed blower, without damper | Controls noise |
| Silencer for blower | Controls noise |
| Digital static pressure gauge and airflow meter, instead of manometers and charts | Easy to use and accurate |
| Venturi tube and linked airflow meter calibrated and certified by a Professional Engineer | Reliable and meets leakage specifications |
| Color-coded tubing | Simple to connect |
| Quick conversion from positive to negative testing | Easy to use |
| Smoke generator included | Versatile |
| Central control panel | Easy to operate and observe test results |
| Storage compartments | A good place for everything needed |
| Optional data recording | Record keeping |
Choosing a Venturi Tube
Four sizes of venturi tubes, 1, 2, 3, and 4 inches, are available to accommodate a wide range of leakage rates. It is advised that you purchase the size venturi tube/flow meters you will need when initially ordering the Test Station, though they can be added as you need them or all purchased at the same time for the most versatility. Chart 1 shows the approximate leakage rate that can be measured as a function of the required test static pressure for each size of venturi tube. Because the Test Station comes with a variable speed fan, an infinite combination of leakage rates can be measured at numerous static pressures within the limitations of the equipment.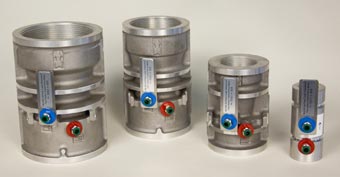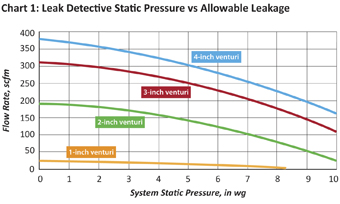 Standard Leak Detective® Test Kits
A McGill AirFlow Leak Detective test kit makes it easy for you to measure duct system leakage. We offer four standard sizes, each available either as a kit or mounted on a wheeled cart. Other sizes are available as nonstandard items. Leak Detective carts, orifice tubes, and test kit components can be ordered individually. A standard leakage test kit consists of the following equipment:
Calibrated orifice tube
Certified calibration chart
OSHA-approved fan with an inlet damper control
Two U-tube manometers
Vinyl tubing
Dye
10-foot flex duct, adapter and clamps
The standard test kit contains a 4-, 5-, 6-, or 8-inch orifice tube calibrated for positive pressure system testing. The fans, which come with an inlet damper control, can be ordered for 110- or 220-volts and 50- or 60-cycle current.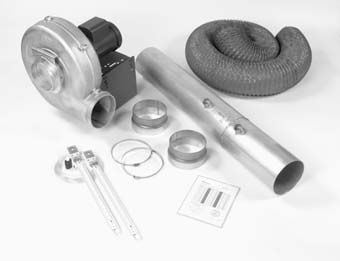 Leak Detective® Cart Assembly
We can also supply a test kit mounted on a hand cart for easy portability. All you do is wheel the durable, metal cart to a test site and connect the flexible hose to the orifice tube. Convenient holders are provided for the calibration chart and instruction booklet. You can also purchase a hand cart as a separate item and mount your existing test kit on it.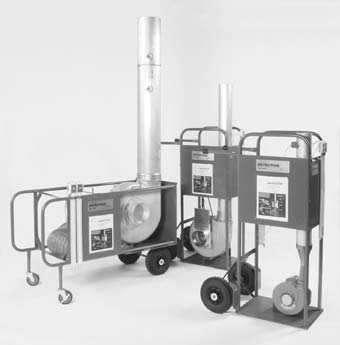 Orifice Tubes
You can order our standard or nonstandard orifice tubes individually, in lieu of an entire test kit. Nonstandard orifice tubes are specially designed and calibrated according to the required volume flow and test pressure. They can be calibrated for use in both positive and negative pressure testing situations. When ordering a nonstandard tube, the required volume flow, test pressure, and calibration requirements should be specified.
Standard 4-, 5-, 6-, and 8-inch orifice tubes are calibrated against master tubes, which have been certified to an accuracy of 0.5 percent by an independent laboratory on equipment traceable to the National Institute for Standards and Technology (NIST), formerly the National Bureau of Standards.
The expected accuracy of all our orifice tubes at the time of shipment is 2 percent of the indicated flow rate.
Periodic recalibration of orifice tubes is recommended. Physical damage sustained by and/or modifications made to the orifice tube nullifies both the calibration curve and certificate provided with the product. It is recommended that the orifice tube be recalibrated at least 5 years from the calibration date shown on its calibration certificate, but no later than 10 years. Laboratory tests have determined that tubes over three years old can be inaccurate by up to 6 percent.
Note: Each orifice tube manufactured by McGill AirFlow is individually calibrated and marked with an identification number. We keep calibration records from the past 10 years on file in case a chart is lost.
Smoke Delivery System
The use of smoke during the testing process can make locating sources of leakage faster and easier. As complementary accessories to our leakage test kits and cart assemblies, McGill AirFlow offers smoke generators and a complete smoke delivery system. You have the option of purchasing just the smoke generator or the complete system with the smoke generator factory-mounted to the cart assembly. If you already own a cart assembly, you can make the conversion by ordering the smoke delivery kit, which includes the smoke generator and related hardware.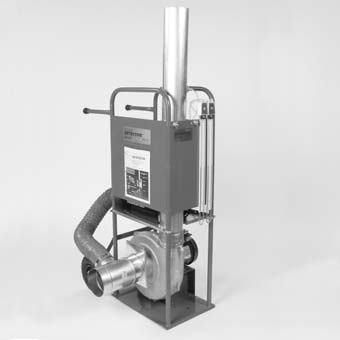 Smoke Generators
The standard model smoke generator produces FDA approved, non-toxic smoke and has an impressive list of performance features offering greater control and smoke output. The specifications for the generator are listed in the following table.
Feature
Model
Fluid capacity
1 liter
Element
750W
Smoke output
7000 cfm
Handheld remote control
Yes
Remote control cord length
16 feet
Timer control
Yes
Output concentration control
Yes
Heat up time
7 minutes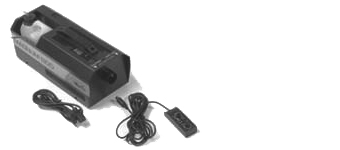 Smoke Delivery Kits
Our smoke delivery kit allows you to conveniently add smoke capabilities to your Leak Detective test kit cart assembly. The complete smoke delivery kit includes the smoke generator, support plate, mounting hardware, mixing tube, flexible duct, clamps, intake fitting, 1 liter of smoke fluid, and mounting instructions.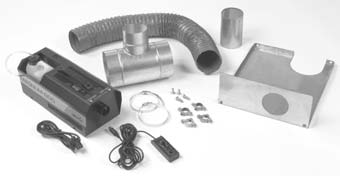 Choosing a Leak Detective® Test Cart
Test Carts:
LDTC-4, LDTC-5, LDTC-6, LDTC-8
Test Cart Assemblies:
LDTC-4CA, LDTC-5CA, LDTC-6CA, LDTC-8CA
Cart without Test Kit:
LDTC-4C, LDTC-5C, LDTC-6C, LDTC-8C
Orifice Tubes:
LDTC-4T, LDTC-5T, LDTC-6T, LDTC-8T
The graphs below shows the approximate operating limits of each Leak Detective test cart. The graph plots static pressure versus volume flow. At a given test pressure, each cart can deliver air volumes (cfm) up to the maximum value indicated by the curve.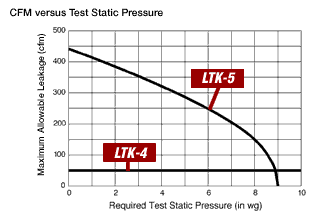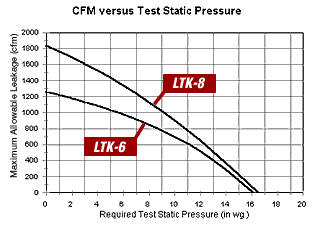 Calibration Services
We can recalibrate McGill AirFlow orifice tubes and calibrate tubes that you supply. The 6- and 8-inch tubes come standard with forward flow (positive pressure) and reverse flow (negative pressure) calibration. The 4- and 5-inch tubes come standard with forward flow calibration, but can be calibrated for reverse flow. Our Engineering Department can also arrange for independent or NIST calibration and certification.
Recalibration of McGill AirFlow Orifice Tubes:
Positive Pressure (LTS-RP)
Negative Pressure (LTS-RN)
Positive and Negative Pressure (LTS-RB)
Calibration of Orifice Tubes Supplied by Customer:
Positive Pressure (LTS-CTP)
Negative Pressure (LTS-CTN)
Positive and Negative Pressure (LTS-CTB)
Independent Calibration and Certification:
Positive and Negative Pressure (LTS-IB)
NIST Calibration and Certification:
Positive Pressure (LTS-NP)
Negative Pressure (LTS-NN)
Calculation assumes no inline loss. To include inline loss, add it to the system test pressure above.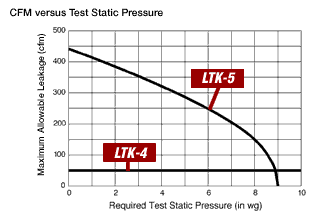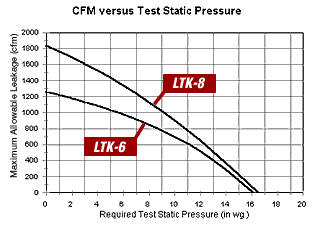 Recommended McGill LEAK DETECTIVE Test Kit:
Maximum Leakage (cfm) your kit can measure: