Uni-Bright™ Cold Galvanizing Compound zinc-rich coating that will stop rust and corrosion on all metal surfaces. Sacrificial coating is equal to hot-dip galvanizing in cathodic protections, film durability, and caustic and salt protection with 65% metallic zinc content by weight in the dry film.
Available in 16 fluid oz/12 oz net weight.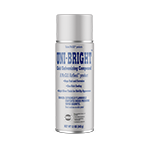 Uni-Wrap™ Protective Plastic puncture-resistant polyethylene is ideal for the temporary protection of HVAC sheet metal ductwork and other construction materials during transit and storage, sealing out dust, dirt, rain, snow, paint, and other contaminants. Its high-tack, one-sided adhesive leaves no residue and has excellent adhesion to metals, plastics, wood, masonry, stone, paper, and many other materials.
Available in blue as 36-inch-wide by 200 foot length rolls.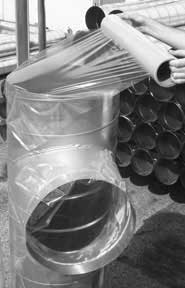 Uni-Gasket™ Round Fittings
Uni-Gasket™ round fittings reduce installition time and costs. They feature a single-leg EPDM rubber gasket, which provides a reliable, airtight, friction-fit joint that meets or exceeds SMACNA Class 3 for leakage at -20 inches wg to +20 inches wg. Delivers in 24 to 48 hours.
Available in 3-24 inch diameters, galvanized steel, 22, 24, and 26 gauges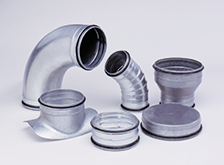 ---
Uni-Seal™ Round, Single Wall Duct
Our single-wall, round, spiral lockseam duct provides efficient performance and economic benefits. Because of reduced leakage and pressure loss, you save on operating costs. Delivers in 24 to 48 hours.
Available in 3-24 inch diameters, galvanized steel, 10-28 gauges, and 1-20 feet in length